Essential Oil ~ Peppermint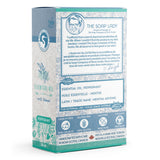 It smells like candy canes
I love the way my house smells when I diffuse this peppermint. It not only smells like candy canes but it make the air so fresh and clean. I also will add a drop to my scarf or the palms of my hands and breathe it in to clear my sinus.
Amazing.
The peppermint oil drops were a beautiful addition to my self care collection.
Peaceful and calming. I enjoy them very much and definitely recommend everyone adding them to their self care Inventory.
Hey Lisa!
Self care is so important! We are thrilled to be part of your care package!
Please check your email for a thank you coupon code from us
Be well
Megan & The Soap Pro Team