3 x Patchouli 3-in-1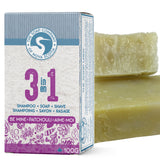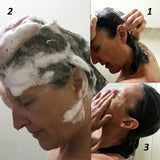 3 in 1 patchouli
Soap is lovely! First time I have used bar soap on my hair, and nice to have the same smell all over. Will be great for travelling, less to pack!
3 in 1
I wasn't really fond of this as a shampoo but loved the soap.
3 in 1
Love love love this soap!
It's amazing and I feel so fresh and clean.
I use it always!
Heya Linda!
We are thrilled it makes you feel fresh and clean and hopefully great in your skin ;) Have you tried it as the shampoo or for shaving yet? My hair always feels so healthy and squeaky clean after and its the best glide for shaving ever!
Check your email for a coupon code from us :)
Be Well
Megan & The Soap Pro Team
Beautiful!
This 3-1 patchouli soap makes my thin air so much fuller and healthy looking! My husband loves the soap as well. Thank you for such a wonderful product. Looking forward to visiting your boutiques on our travels!
Hey Francine,
We love to help people free great in their skin- and hair too! Glad you're both getting to enjoy our products. We hope we get a chance to see you during your travels too!!
Check your email for a coupon code from us :)
Be well
Megan & The Soap Pro Team
Awesome
My g/f bought me a dozen bars in September after being given a bar from a hair dresser and loving it. I have 2.5 bars left now. I havent used shampoo or any other soap since. I absolutely love it and recommend it to anyone. Coming for 2kg next trip.
Hey S.S
Thanks so much for your continued use! We love making products to help people feel great in their skin!
Please check your email for a coupon code as a thank you!
Be Well
Megan & The Soap Pro Team